I miss Marge. Not only was she a cousin, customer, and friend, she was an inspiration.
In the
last post
, I mentioned a friend who was discouraged by plastic tubs full of photos, and showed my shelf of Daddy's negatives and my own photos. Then I showed off my shelf of completed albums and gave out guidelines on where to start when you're overwhelmed. Today I want to share a success story from a customer (who passed away earlier this year). Maybe she'll inspire you, too!
We think we have too many photos. Marge was a professional photographer in her younger days. Then she became a flight attendant, married a pilot, had children, and travelled the world with her young family. She had collected some photos for herself in those old albums and her daughter is an avid scrapbooker. Her son, however, didn't have those mementos. Now a great-grandmother with poor health and arthritic hands, she decided to make an album for her son and called on me to help.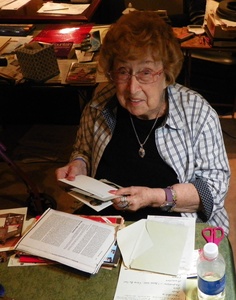 My first night on the project, I found Marge with a slide projector and reels of slides. There were flowers, streets, and buildings galore. Remember those old family slide shows? *yawn* When I asked how many we'd have to go through, she pointed to the hall. "There's a closet full." We were overwhelmed.
Did I mention that Marge was determined and goal-oriented? The next week, she had her scrapbook supplies out on a card table. She told me we would go ahead without the pictures. I tried to wrap my mind around that.
Without. The. Pictures.
We ended up completing not one, but two beautiful albums of trips she'd taken with her son. Marge had kept bags of memorabilia, itineraries, and "journals" of abbreviated notes on scrap paper. We cut pictures out of brochures, used tickets, maps, and beautiful postcards. We transferred her notes onto journaling boxes. I encouraged her to include her own handwriting, but as she became unable to write clearly, I printed beneath the postcards and pictures. I even snuck in this picture of her working on the album — I knew her son would appreciate it.
It's as if Marge knew how much time she had, and finished what was important.